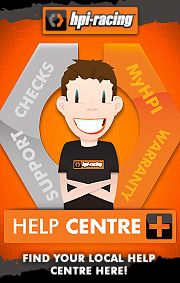 Phills Model Shop is a registered HPI Help Centre.

This means two things for you as a customer:
Firstly, we are a first point of contact if you require advice or if something goes wrong with your HPI model car.
Secondly, we provide three HPI Health Checks for your HPI model car in the first year. These can be thought of as MOTs for your model car.

How do the Health Checks work?

HPI provides us with a form which has a list of items that are to be checked on it. The Health Check is a simple visual inspection of all of these that should take around 15 minutes to complete. Once the health check is done, you will receive the completed form, and if any repairs are required, you can decide whether you want us to perform them.

How much do the Health Checks cost?

For a service consisting of the list of items that HPI provides us is free. If you want us to do something extra, such as setting up the engine, this will not be free.

Who is eligible for the Health Checks?

Anyone with a MYhpi account that hasn't already used up their three Health Checks for that particular model car. For more information about MYhpi, see here.

When can the car have a Health Check?

The three Health Checks have a certain range in which they can be done.
The first is to be done at approximately one month after purchase.
The second must be done within 6 months of purchase.
The third must be done within 9 months of purchase.
Once the third Health Check is completed, you will receive a voucher electronically to spend in-store.

If you have any other questions that are not answered here, feel free to visit, call, or email us and we can answer your query.